Casino Download > Download Casinos > Lucky Creek
Lucky Creek Casino Download
Up to $/€/£500 FREE welcome bonus
Lucky Creek is a western-themed online casino with a definitely intentional fun and lighthearted atmosphere. There's no danger of you being shot and you might enjoy a few giggles along the way (unless you get burgled whilst playing but let's not go there). Lucky Creek's designers have - thankfully - got plenty of healthy wackiness in them and it shows in their work which oozes passion for the specific casino games or competitions they're promoting. Compliments where due, especially as we're so free to hand out criticism when due. Well done, Lucky Creek - you've got a damn fine looking casino download product and website.
Global domination!
Despite being listed as an excluded country in the casino's outdated t&c, it's the USA sending most players Lucky Creek's way but with lots of currency options for clients to choose from, there are members all over the world. Some countries have limits placed on certain bonuses (usually freebie promo's) but almost everyone is welcome at Lucky Creek and will get the same games and receive the same customer service.
With currencies including CA$, DKK, EURO€, NOK, SEK, UK£ and US$, it's easy to see how Lucky Creek has generated a global following in addition to its massive USA clientele. Note that casino rules dictate that 'Players MUST play in the currency of their country' so if you live in Canada, don't do something stupid and set your currency as £. Don't worry if your currency isn't included in the list as 'All other players may play in USD$.'
So... a cowboy casino?
Not quite, thankfully - but there are cowboys-a-plenty to be enjoyed around the casino if that's what you're looking for! It could be argued that perhaps a 'cowboy' theme might be slightly 'awkward' when you're talking about a casino and serious money but it's more of an overall 'western' theme and it all works out nicely. There's certainly nothing 'cowboy' about the way Lucky Creek's download casino and browser-based website gaming has been put together. Everything looks fun but at the same time, it's 'slick' and always running smoothly behind-the-scenes and/or on-screen as it should be. It's a reassuring feeling that you should expect from every good online casino.
Mobile, browser or download Lucky Creek Casino
Once you're a client of Lucky Creek, your same account login details will permit you access to three different formats of the casino - in order of preference/quality: the download casino, the browser-based casino, and the mobile casino.
Downloading the software from Lucky Creek to your computer is the best way to get the most out of your experience. You will have access to download-exclusive features, games, options and more. As with almost every online casino, the download wins.
The browser-based version of Lucky Creek is, we have to admit, a very close second choice which is rare for us to admit with non-download casinos. Lucky Creek's browser casino is 'almost' as beautifully constructed and easy-to-navigate as the Lucky Creek download casino but facts ARE facts and the downloadable casino is simply the best of all three versions. But we wouldn't blame anyone for playing via Lucky Creek's browser-version - it's really excellent and player-friendly.
Mobile gaming is still increasing in popularity but unless you don't have access to a computer then it's unlikely you'll be choosing to play Lucky Creek's mobile casino instead of the browser or downloaded casino. The mobile casino is fine - good, even - for what is capable on a mobile device. Recommended for on-the-go or non-computer-owning gamblers only.
Lucky Creek & Friends
Lucky Creek is an online casino owned and managed by the long-established online gambling company Genesys Club. The same company also owns a few other online casinos and if you happen to be a member of any of them - and use your same e-mail address when you join Lucky Creek - the casino will detect that you are an existing client with a sister-casino and immediately allow you to transfer across all of your account details. This is a brilliant idea, saving new members time entering contact and other details when all you want to do is get down to the betting action. It's another unexpected plus for Lucky Creek that we don't see at many online casinos.
The other casinos in the same online gambling group include Big Dollar, Grand Eagle, Mandarin Palace and Treasure Mile and you are welcome to download and join as many of them as you wish and even transfer money between the casino accounts if you so desire. Downloading Lucky Creek or any of the other member-casinos takes just moments and signing up a new account is either fast or INSTANT if you're already known to the owners!
I want to download Lucky Creek Casino - where is the link?
Now you've asked a really good question there (well done!) and coincidentally, we've been wondering the same thing. As with other casinos within the Genesys group, it appears that despite everyone agreeing that the download casino is the premium product, visiting the casino's website and/or even being logged into the browser-based casino does not provide any route to downloading Lucky Nugget's casino software.
If you think this sounds nutty, well, that's because it IS ludicrous. If players didn't have Casino-Download.com to obtain the downloadable version of Lucky Creek then where exactly are download-seekers supposed to go? Honestly, it makes zero sense to us to hide the download casino, especially when it's your best product and you should be pushing downloads as much as you can to as many potential new clients as possible. Not everyone wants to play in a browser and certainly most people do not want to gamble using a phone.
To download Lucky Creek's software direct from the casino, simply use the links on this page and follow the instructions to receive a 'future-proof' download-link that should keep working for you in the future, regardless of any casino design shenanigans.
Multi-software download games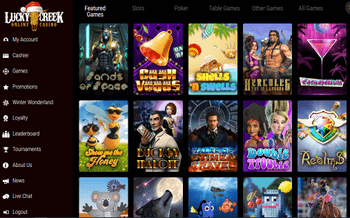 If we can forgive Lucky Creek for hiding the download casino, we can be fair and give much praise for providing a high-quality multi-software download casino. Underneath one downloaded roof, Lucky Creek's clients have access to games from all suppliers including Betsoft, Rival and Saucify.
Unlike the 'old days' where downloading software meant being limited to just one software provider (ie. Rival), many casinos such as Lucky Creek are now seeing the attraction of providing multi-software 'super downloads' with hundreds and hundreds of games from lots of talented designers. It can only be a great thing for online casino players, especially those who have loyally stuck with downloaded casinos whilst browser versions threatened to become all the rage for a while with additional software providers. Now download casinos have this option too and we're going to see more and more casinos use it.
Lucky Creek only boast of having '200 games' but they are being modest. You can expect access to a lot more and if it's got anything to do with online casino gambling then you will find it somewhere on Lucky Creek's casino floor waiting to be played. Also, new games are added to the casino's collection every few days or week or thereabouts, from one of the many suppliers knocking out new fun releases for Lucky Creek's punters to try. You'll find all the usual suspects - table games, slots, video poker, keno, scratch cards, LIVE dealer roulette, blackjack and MUCH more. Downloading new game releases takes just seconds and then they're available to instantly play now and in the future.
Players can search for new or preferred games (a bit slow in the browser casino - not in the downloaded casino) or see games in categories such as slots, table games, 'other' and poker. Also possible is checking which slots have certain features such as jackpots/progressives, free spins bonus rounds and number of win-lines. The latest arrivals (latest games) are featured and promoted games are highlighted, so you won't miss anything new and tempting.
Lucky Creek's games are subject to independent monthly globally accredited audits with the results published online. Lucky Creek 'boasts' (their word) that they have "The Best Casino Payout Rates" and offer 24 hour support, 365 days a year.
Welcome bonuses at Lucky Creek
One thing Lucky Creek definitely could and should sort out is their outdated and incorrect terms and conditions, listing excluded countries that are actually welcome. On several occasions (the UK and USA for example), the website indicates players are excluded but then goes on in detail to explain how UK and US-based players are dealt with regarding promotions and bonuses. We have told the casino about this - some time ago.
If in doubt, we suggest you fire off an e-mail to Lucky Creek or grab one of the casino's support reps on live-chat to double-check your eligibility regarding both joining the casino and also claiming bonuses. Best safe than sorry.
Lucky Creek has lots of seasonal promotions ongoing for all players so there's always something tasty to tempt bonus hunters. Just one example, it's 'Happy Hour' for FOUR hours EVERY day from 6am EDT to 10am EDT when depositing players receive 50 free spins to play on the best of Lucky Creek's slot games. If you manage to claim seven 'Happy Hour' offers over seven consecutive days then you'll be in with a good chance of winning a cool prize including posh gift baskets, shopping and gift vouchers, free slot spins or just straight cold hard cash in your casino account. See more details about this promo and LOTS more at the casino's website where it's literally a bonus-lovers heaven.
Most new sign-ups will begin with the optional 100% welcome bonus up to $/€/£500 on the first deposit. Use bonus code LUCKY1 in the casino's cashier when depositing to claim this first deposit bonus. You will need to wager the bonus amount x60 prior to cashing out, which is industry standard. Example: make a first deposit of $20 and receive a $20 bonus, giving a total balance of $40 and a pre-withdrawal wagering requirement of $20 x 60 = $1200.
As an extra reward for making your first real money deposit, Lucky Creek will activate bonus code MARSHAL that (when redeemed) will credit your account with 25 bonus spins on the Age Of Spartans slot game.
New members at Lucky Creek are entered into a New Player Leaderboard tournament for the first two weeks after you join the casino. It's an incentive to make a first deposit, obviously, but it does give you a chance to win some free cash. See Lucky Creek's website for more information about the two-week New Player Leaderboard.
All members at Lucky Creek are automatically included in the casino's loyalty reward program, designed to reward players with perks and pressies for playing, depositing and just generally being active. You'll see your loyalty ladder in your casino account and will climb it at a decent pace from our experience.
Start with a no deposit required bonus code
Prepare to feel smug with a special bonus code that will credit your account with 33 free spins, with no deposit needed, on Genii's slot game Spirit Of The Wild. The bonus code is WOLF33 and will instantly activate your free spins.
Spirit Of The Wild is a fast moving slot although annoyingly there is no auto-play/spin feature. Still, you won't be slowed down - click 'spin' and this slot MOVES so you can bang your 33 free spins out in seconds if you want or take your time and leisurely accumulate your free, no deposit-generated loot. It's your game.
To get started, download Lucky Creek Casino (or open your browser) then register your new player account and log in to the casino. Click on 'Cashier' and then 'Bonus' - enter the bonus code WOLF33 and you'll be done! It really is that easy, especially in the download casino.
Did we break the casino's bank?
Not even close! We frequently get very lucky with our free spin bonuses but this time we struck out big time and collected a mighty €0.69 (stop laughing!) to carry forward - but that's the gamble. We did embarrassingly bad but you might hit the withdrawal limit. In addition to our pathetic winnings, an additional kick up the arse came when we tried to play non-slot games with it - most require a minimum stake of 1.00 and our weeny 0.69 balance meant we embarrassingly wandered from game to game asking to play, only to be turned away. We tried scratch cards, blackjack, roulette and even little old keno and were disappointed each time. Slots obviously are always an option - and probably where you'll be heading with your free spin winnings - but we wanted something different after our lousy free spin results so we persisted (oh, and we needed a screenshot of a non-slot game for this review, see below).
Eventually, after what seemed forever, we found a version of Keno from Saucify that allowed us to play with our bonus winnings at just 0.20 a game (stake range was 0.20 to 10.00 per game), so we had some fun with the keno game and even scored some half-decent wins along the way. Unless you hate the game, it's good to occasionally refresh your keno fun-bank. Keno is a game we often forget to play but it's very exciting to watch and can generate really good returns. So learn from our experience and ensure you win at least 1.00 with your 33 spins if you want access to many games with your winnings!
Wagering/playthrough requirements
The great thing about online casino bonuses is that they extend your gaming sessions and provide extra flexibility with your stake allowance. The downside is the rules, limits, terms and conditions that almost always spoil much of the fun.
Things are no different with Lucky Creek's bonuses and we've already covered how they work with the x60 wagering/playthrough requirement that is attached to both Lucky Creek's free spins offer and their first deposit bonus. For an online casino, it's at least nice and straightforward so should be easy to understand. You can check your wagering progress at any time in the Lucky Creek download casino and see how you're getting on.
As at most online casinos, bonus money is usually playable on a limited selection of games and only a few of them (usually slots, keno and scratch cards) knock-off 100% of the stake from your wagering target. Playing other games could contribute only 50% or less towards your final goal. Here at Lucky Creek the percentages contributed are as follows:
100% - Keno, Scratch Cards, Slots/Pokies : 50% - Roulette, Three Card Poker : 25% - Baccarat : 10% - Video Poker : 5% - Blackjack.
Unfortunately, more limitations arrive in the form of country specific bonus exclusions and term alterations. For example, the $/€100 maximum withdrawal allowed from the 33 spins no deposit bonus spins is halved to €/£50 if you happen to reside in Denmark, Greece or the UK. Lots of other countries have complicated rules and terms to be aware of so we recommend you read the terms and conditions fully and carefully to ensure you know EXACTLY how Lucky Creek Casino deals with players located in your country of residence.
There is a long list of countries completely excluded from claiming no deposit bonuses so take a few seconds to look over the list if free bonuses are on your radar. If you don't intend to play with bonuses and would rather just use your own money at Lucky Creek (not a bad idea!) then you don't need to concern yourself with bonus rules and restrictions and will enjoy a lot more freedom with your gambling funds/winnings.
See further down this review page for more information about excluded countries and country-specific terms at Lucky Creek Casino.
Recommended
Lucky Creek claims to be in a 'league of their own'. See what you think. The casino certainly speaks highly of itself which, if justified, is something they're right to shout out loud and proud, probably with a 'yee-haw!'.
---
Lucky Creek Casino screenshots
| | | |
| --- | --- | --- |
| | | |
| Lucky Creek Casino website | Nordic Wild slot at Lucky Creek | Keno |