Casino Download > Ex-Download Casinos > Not Recommended > Grosvenor
Grosvenor Casino Download
Part of The Rank Group, Grosvenor is a well-known UK gambling brand with land-based casinos and bingo clubs. Grosvenor Casino only accept players from the United Kingdom, Ireland and Gibraltar.
Important: as Grosvenor Casino is now blacklisted, we do not keep an eye on the casino's promotions or other details as we have zero intention of promoting them. Remember that any information or bonuses shown below are likely to be outdated and any positive comments should NOT be taken as recommendation to join or download Grosvenor Casino. To be clear - this is a blacklisted casino and we don't want any part in sending new potential players to Grosvenor. If you find yourself reading a positive review of Grosvenor elsewhere then you should avoid/ignore the source - the casino will be paying to market their brand and the website won't have players' interests in mind.
Sign-up welcome bonus
Start at Grosvenor Casino with a €/£20 welcome bonus when you make your first deposit of €/£20 or more. You'll also get cashback offers throughout your membership. If you're a member at any Grosvenor land-based casino you can claim a free €/£20 bonus with no deposit required and link your membership 'PLAY POINTS' to your online casino account.
Regular players and high rollers at Grosvenor can apply to join the casino's VIP Club. Membership of the VIP Club will entitle you to a personal account manager, invites to VIP events, extra cash bonuses and increased betting limits.
Losing the download casino and the plot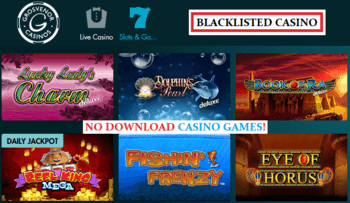 Grosvenor's online casino now only allows its members to play in the remaining browser (ie. Chrome, Edge, Firefox, Opera) casino without downloading any software. The casino contains hundreds of games from different providers including Amaya, Bally, Barcrest, IGT, NextGen, OpenBet, Playtech and many more. Live dealer baccarat, blackjack, poker and roulette games are powered by Evolution Gaming and you can try most games for free at Grosvenor's website. There's also a smaller mobile version of Grosvenor's casino that can be downloaded - compatible with Android, Apple iPad/iPhone/iPod Touch, Blackberry and other modern devices.
Whilst the above might read as attractive - and it's not bad for what it is - Grosvenor Casino shot themselves in the foot, gut and face when they decided to stop offering their Grosvenor Casino download software option. Grosvenor's download was by anyone's standards a considerably superior gaming product to the existing browser-only version and wipes the floor with any attempt to recreate an online casino using a phone or pad.
These mobile 'play-on-the-move' devices are good and improving, impressive even - and game designers have made great strides, doing very impressive jobs trying their best to meet the casinos' demands by making internet casinos compatible with mobile equipment - but game designers are severely limited by the hardware at their disposal ("it's a phone, for **** sake - not a PS4!") and now that Grosvenor's download casino has been taken away from the game developers, they are working with one hand tied behind their back and unable to produce what is possible on casinos still offerings downloads to their clients.
Download-only exclusive features include instant casino and game loading, additional and faster banking transactions and payment methods, download-exclusive games, enhanced security and privacy, better gambling control settings, access to your gaming statistics, early access to new games, a professional casino lobby and much more that we'd bore you if we listed all the advantages that download casinos have over their browser/mobile offshoots so quite why Grosvenor decided to dump its very best casino and become a clone of thousands of (better) non-download casinos is beyond us. There are much better alternative non-download or browser casinos for the UK market and for the rest of the world. There isn't any area where Grosvenor Casino stand-out as special.
Does not play well with others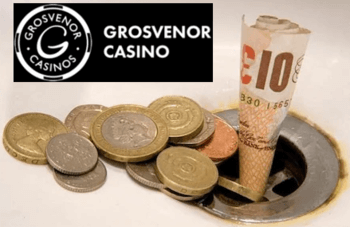 If dumping their download casino wasn't bad enough, Grosvenor Casino soon marched on with their new 'dumping' philosophy to its debtors including legally contracted advertisers, affiliates, reviewers, publishers, etc. - deciding to illegally and retroactively implement new Grosvenor-advantageous terms into already in-place contracts and agreements. In short, it meant that a considerable number of these advertisers simply decided to write off any debt owed by Grosvenor Casino and refuse to work with the casino again. It might cost money, but it's a lot easier than chasing down a casino that's already decided to close a number of accounts.
This is no accidental development, it's calculated in advance by casinos looking to cut costs and is a current stain on our industry. This is far more serious than it could at first seem to the average player and is EXACTLY the type of activity taken recently by (mostly) UK online casinos that can lead to real people losing real jobs because a greedy/immoral company has decided to unilaterally change its mind/rules and break its own promises. Shame on all of them.
Recommended?
Absolutely not. As mentioned, it has been mostly (but not exclusively) the biggest British high-street gambling brands and internet UK companies such as Grosvenor, Gala, William Hill, BetVictor, Betfred, Genting and more that have been the worst culprits for destroying the reputation of these UK brands online. Most betting clients of these large brands almost certainly won't be aware of the drama unfolding where they are not supposed to see it and to be fair - probably won't become embroiled in the dirty dealings of the UK's biggest gambling companies but we have a simple policy of only dealing with honest, decent and fair people in life and in work. And that no longer includes Grosvenor so they're blacklisted.
---
Grosvenor Casino screenshots
| | | |
| --- | --- | --- |
| | | |
| Grosvenor - blacklisted casino | Cash Wizard slot at Grosvenor | Rubik's |